TESSELLATIONS III
TESSELLATIONS III
SIMPLE IS BEST
One of my favourites, symmetry group cmm.
I have been drawing lifelike tilings since about 1984. Although the examples here were all drawn using Freeehand the actual design, I find, is best done on tracing paper with a pencil.
49 WAYS TO DRAW LIFELIKE TESSELLATIONS
Here is paper I wrote about their construction.
FLYING BOOKS

24 HOURS
A metamorphosis, USA to UK to OZ.
This is a big drawing, shown here very small.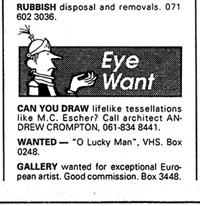 PRIVATE EYE Small Ad 17.8.90
Who else was doing lifelike tilings? I placed this add to find out but got no substantial repies. In fact I only able to other people doing them once the internet got started. This led to the following web site: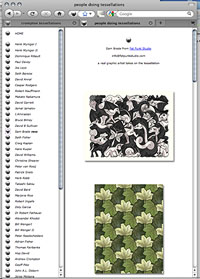 PEOPLE DOING LIFELIKE TESSELLATIONS
I started this site in 1997 in an effort to find everyone in the world who shared this interest. I last updated it in 2009 when 54 people had come forward, which may be everyone in the world except for is one Frenchman, Raoul Raba, who declined to appear in my list. He has done a great kangaroo tiling.
BOOKS
The Mathematical Gardner.
Ed. David A Klarner, Boston 1981.
Tilings and Patterns.
Grunbaum and Shepard, W. H. Freeman 1987.
NEWS ABOUT TILINGS
tiling-list@tiling.uttyler.edu
Have a look at:
LINKS TO TESSELLATIONS SITES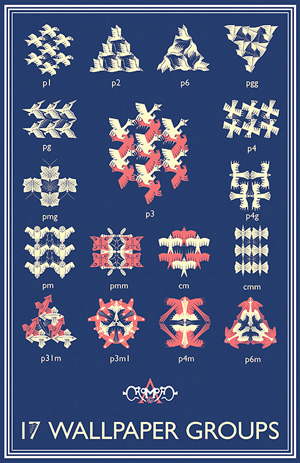 17 WALLPAPER GROUPS --- THE POSTER
All done with flying creatures.
This was difficult!
This poster was commissioned by Dale Seymour USA,
and is now sold by Addison Wesley.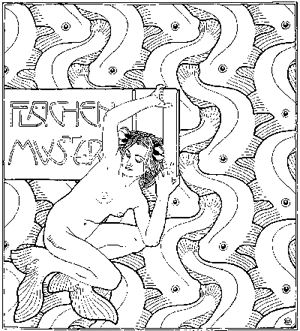 WORLD'S FIRST LIFLIKE TILING
Trout Dance by Koloman Moser
from the magazine Ver Sacrum, Vienna 1901.
(A pg pattern, isohedral type IH2)
Moser did several small designs the block below for Ver Sacrum.
This tessellating design is like a swan.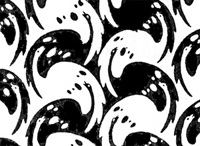 Symmetry group pg.
.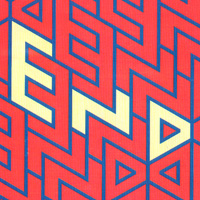 TESSELLATIONS III