ANDREW CROMPTON
RESEARCH
FX VELARDE 1897-1960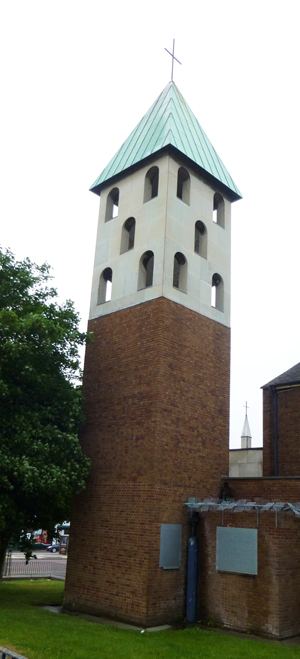 With Dominic Wilkinson at LJMU School of Architecture I am
studying this remarkable architect.
If you knew him, or know anything about his work please call me.
0151 794 2643
HOW TO LOOK AT A READING FONT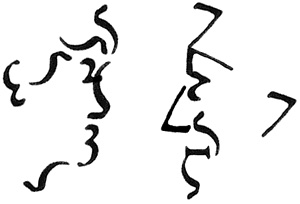 It is no coincidence that typefaces are called faces.
This paper is part of an investigation into the question
What is a face?
see this paper 'How to look at a reading font' which shows
that fonts are self camouflaged sets of objects.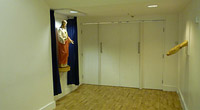 MULTIFAITH PRAYER SPACES
I study these in between sacred spaces.
What is their history? Who uses them, and how?
With my colleague Dr Chris Hewson we have visited
over 300 of them in the UK, US and the EU
If you have any fact or opinion on these places
mail me and I will answer. [andrew@cromp.com].
see my latest paper: 'God leaves the building'
see also
MFS site info.
[Funded by the AHRC 'Religion and Society programme.]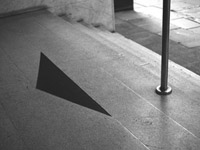 THE GROTESQUE
I am interested in the grotesque in the built environment,
especially in buildings that seem to talk or contain stories:
see for example:
'The Secret of the Cenotaph' -- AA Files 34
'Interior Design goes to War' -- AA Files 60.
Mail me if you know of other places like these.
above
This arrow is, in many ways, non-existant
Read 'Three doors to Other Worlds' to find out how.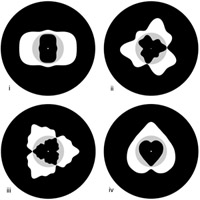 SELF ANAMORPHIC SHAPES
Seen in a conical mirror certain shapes are preserved,
though rotated, most notably the heart shape.
FRACTAL NATURE OF EVERYDAY SPACE
My research uses cognitive science to investigate
space in the built environment.
The question I am trying to answer is this:
Is space in the everyday environment fractal?
If so, how does this effect the way we perceive and use it?
If this is the case then we manufacture space
as if from nothing by appropriate design;
this could be important for a sustainable future.
Here are some examples: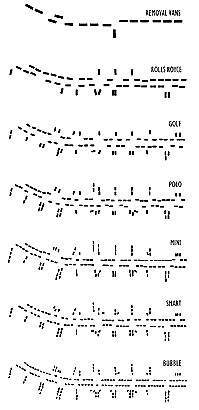 HOW MANY CARS CAN PARK IN A STREET?
15 Removal Vans, 44 Rolls Royces, 72 Golfs, 91 Polos,
125 old style Minis, 133 Smart Cars, 195 Bubble cars
The numbers increase hugely when the cars get smaller,
because urban space is fractal.
see: Scaling in a Suburban Street.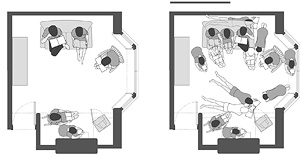 EVERYDAY SPACE IS FRACTAL
Places used by grown-ups and children to read, compared.
Space is fractal and expands inwardly.
Small flexible people find the world much bigger.
This is why your old school seems small when you return.
see: Environment and Planning B 2001 p243-254