GROTESQUE GEOMETRY I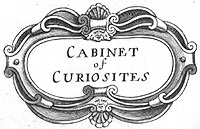 In the Grotesque we see symmetry, movement and purpose;
signs of life where there ought not to be any.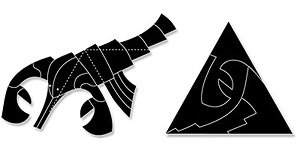 HOW TO SERVE A LOBSTER ON A TRIANGULAR PLATE
A lost art.
BUGS
a natural tessellation; this is the graph of part of
sin[x.(cosy - cosx)] + sinx - siny < 0
Plot it yourself if you don't believe it.
(thanks to Gary Tupper of Pedagoguery Software )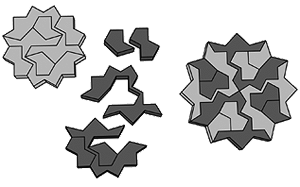 TWO INTO ONE
The two stars on the left combine to make
a similar but larger star on the right.
This dissection could allow small stars to aggregate and grow.
Warning: this is weirder than it looks.
discovered by Greg Frederickson in 1972,
see his 1997 book --'Dissections Plane & Fancy'
A SELF ANAMORPHIC HEART
Seen in a conical mirror a heart is a self anamorphic shape;
though roatated by pi.
[The dot in the centre is the point of the cone,
whose shadow falls upwards]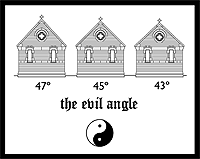 THE EVIL ANGLE
Architect Sir Edwin Lutyens called 45 degrees the "evil angle"
He prefered gables slightly above or below that pitch,
but his favourite roof pitch was the palindromic
54 degrees 45 minutes, but since tan 54.45 is root two,
the hip of such a roof is at exactly 45 degrees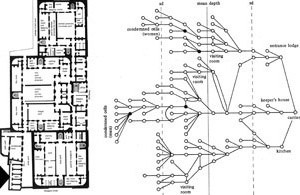 THIRTEEN DOORS TO DEATH
Newgate Prison, London, 1770-8.
Architect - George Dance the younger.
Sometime home to Fagin; (Oliver Twist)
and Magwich; (Great Expectations).
Steadman's graph of depth of spaces,
shows that the deepest room (arrowed),
is 13 doors from the street. . . .
It is one of the condemned cells.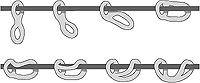 THIS IS STRANGE
Blutac.....when you aren't watching.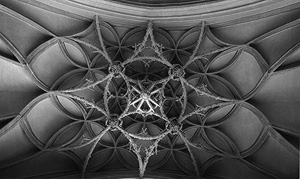 BUILDING COMES ALIVE
Ingolstadt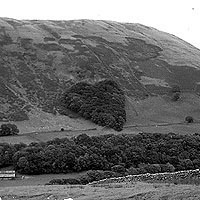 WOODEN HEART
The heart shaped wood c.1814, Tebay, Cumbria.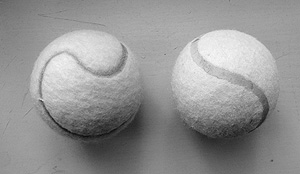 PENROSE TENNIS BALL
Left: the Penrose ball. --- Right: An ordinary ball.
A ball with added whizz, for a reason.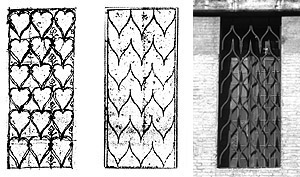 BORROMINI DOES A WINDOW
The Oratorio, Rome, circa 1630.
Flaming heart - double meaning
sketch 1 • sketch 2 • the finished window.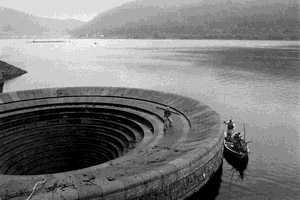 HYPERBOLIC EDGE
The size of these steps varies hyperbolically,
so you can never lean over far enough to see the bottom.
See 'Three Doors to Other Worlds' JAE 2008, 236.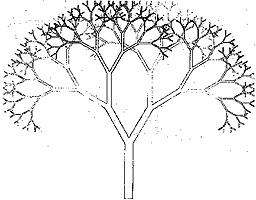 WORLD'S FIRST FRACTAL TREE
Drawn by John Ruskin 1858.
Complete Works Ed. Cook & Wedderburn Volume 3 Fig. 56)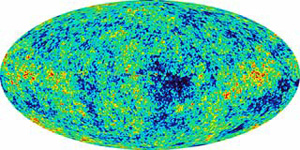 THE HEAVENS ARE LIKE US
A true grotesque
David Deutsch writes:
"Am I the only person to have noticed a remarkable similarity between the map of anisotropies in the microwave background radiation revealed by the WMAP satellite and a map of our own planet? Wouldn't it be funny if they were even more alike? What if they were exactly the same? Look how easy it would be for a coach and horses to run through our entire scientific world view. And yet they never do"